i³ Systems, Inc. (headquartered in Fukuoka City, Fukuoka; Founder and CEO: Tsutomu Sasaki) is pleased to begin offering today our newest version of CLOMO MOBILE APP PORTAL with more advanced in-house mobile app distribution and management as well as enhanced functions for resolving operational issues.
With the latest version of CLOMO MOBILE APP PORTAL, we have taken app usage that is flexible to changing corporate structure (e.g. administrator-guided remote in-house app installations / uninstalls) to the next level, and have enhanced measures for preventing unnecessary use. In addition, CLOMO MOBILE APP PORTAL can now accommodate Android app registrations and distributions. We have also strengthened its environmental aspects by doubling the deliverable app size and expanding the app registration / distribution environment.
The new CLOMO MOBILE APP PORTAL further enriches app distribution and management functions even in varied device environments, as well as reducing the burden on administrators while making secure mobile app use in-house a reality.
Use CLOMO MOBILE APP PORTAL When...
… you want to release an in-house app only to a specific organization and limit its use.
…you want to forcibly uninstall in-house apps (i.e. when a device is lost or employees leave the company, etc.).
…you want to uniformly manage apps even in a mixed (Android / iOS) environment.
…you want to distribute a high-capacity app including contents like videos.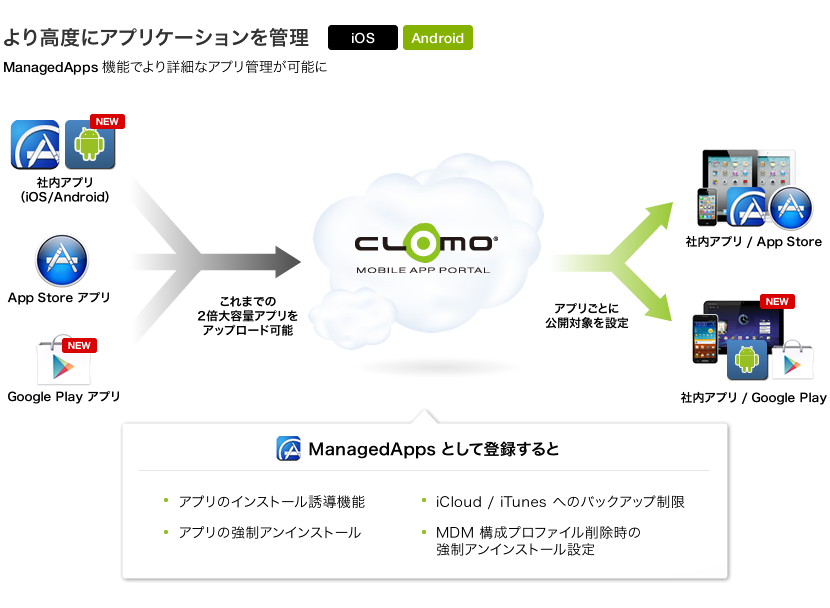 ▶ "ManagedApps" Function - Achieves Flexible App Management
App Installation / Update Notifications
- In CLOMO PANEL, send messages prompting the installation of an app registered in "ManagedApps".
- Specify notifications of the Installation Guidance message from the administrator on a per-organization / per-device basis.
- Only notify devices using CLOMO MOBILE APP PORTAL and in which the app has been installed of updates.
Forcible App Uninstalls
- Apps registered in ManagedApps can be remotely and forcible uninstalled from individual organizations / devices.
Other Options
- When deleting a MDM configuration profile, automatically uninstall the app specified.
- Prohibit user backups of specific apps to iCloud or iTunes.
※ Presumes use in iOS 5 and later. Forcible installations (without user permission) are not possible as per iOS specifications.
As of July 5, 2012, Apple's Volume Purchase Program is not available in Japan; consequently, the ManagedApps function cannot accommodate
charged App Store apps.(For more on the Volume Purchase Program, please visit: https://developer.apple.com/programs/volume/b2b/)
▶ "ManagedApps" Function - Now Accommodates Android App Registration and Distribution
In-House App Registration / Distribution
- Administrators can register Android apps developed in-house and have users download them.
Google Play App Registration / Distribution
- Administrators can register apps available in Google Play as Recommended Apps and have users download them from a dedicated page.
▶ Select Target of App Release
Administrators can specify the organizations to release individual apps to, enabling management that allows only approved organizations to use certain apps.
※ To use this function, you must also use one of the following services:
- CLOMO MDM MPKI Extension Option
- CLOMO MDM Agent for iOS
- CLOMO SecuredBrowser for iOS
※ This feature is currently compatible with iOS, and will accommodate Android at a later date.
▶ Doubled Distributable App Capacity
The registrable / distributable per-app capacity has been doubled to a maximum of 600 MB. In addition, the total capacity of registrable apps per company has been increased to a maximum of 1.8 GB.
Confirmed CLOMO MOBILE APP PORTAL-Compatible Environments
Control Panel [CLOMO PANEL]
- Windows 7, IE9
- Mac OS X, Safari 5
Devices
- iOS: iOS 4.3.5 ~ iOS 5.1.1 Devices
- Android: Android 2.2 / 2.3 /3.0 / 3.1 / 3.2 / 4.0 Devices
(FYI) Full list of Compatible Devices: http://www.i3-systems.com/mdm_terminal_summary.html
Price
CLOMO MOBILE APP PORTAL License Fee: ¥1260 Yen / License / Year (Tax Incl.)
※ If using the service from iPhones / iPads, enrollment in Apple's iOS Developer Enterprise Program is required.
※ The number of CLOMO MOBILE APP PORTAL licenses will be the same as the number of CLOMO MDM accounts ordered / used.
※ An Optional Menu including additional server capacity, etc. is also available.
Based on the idea that "services, apps, and devices are all the Cloud", CLOMO is a platform service that includes everything businesses need to utilize the Cloud. We currently offer CLOMO MDM, CLOMO GATE, CLOMO MOBILE APP PORTAL, and CLOMO SECURED APPs in the product series.
i³ Systems is an software platform provider based in Fukuoka, Japan engaged in the development and retention of technology to fully utilize the enterprise Cloud and smart devices. While we offer extension tools to supplement various public Cloud services like Google Apps, in the smart device sector, we have developed Yubizo Engine, an extensive framework library that utilizes the potential of the Web and enables the development of advanced applications using HTML and JavaScript.
We are working to become a front-runner geared towards the realization of a next-generation IT environment that integrates everything from the Cloud to smart devices and apps. Our innovations have been recognized on several occasions: i³ Systems was the only Japanese company to win a Google Award in the Solutions category at Google Enterprise Day 2010 (Oct. 29, 2010). We also specialize in the development of various Ruby (a programming language) products and services, winning Awards of Excellence at the Fukuoka Ruby Awards for two consecutive years (2008 and 2009).
Company Name : i³ Systems, Inc.
Address : Hanamura Bldg. 5 FL, 2-1-1 Ohashi, Minami-ku, Fukuoka City, Fukuoka Prefecture 815-0033
Established : January 2001
Capital : 65 Million Yen
Representative : Tsutomu Sasaki (Founder & CEO)
URL : http://www.i3-systems.com/
※ The iPhone and iPad are registered trademarks of Apple Inc.
※ The iPhone trademark is used in accordance with a license from Aiphone K.K.
※ Google and Google Apps are registered trademarks of Google Inc.
※ The company and product names herein may be the trademarks or registered trademarks of those companies.
※ Unless otherwise indicated, all prices above exclude sales tax.
【Inquiries】
Keisuke Fukano; Tomoyo Shoji
Marketing Head Office
Phone: 03-6450-1880