i³ Systems, Inc. (headquartered in Fukuoka City, Fukuoka; CEO: Tsutomu Sasaki) will begin offering "CLOMO SecuredMailer" as an app providing secure E-mail usage in the "CLOMO SECURED APPs" app series (a series with remote control functions that supports corporate utilization of smart devices like the iPhone and iPad) from December 7, 2011. Many of the companies that have integrated smart devices frequently use a mailer app for the purpose of revitalizing communications, speeding up decision making, or effectively utilizing free time. However, the fact is that because employees are increasingly free to take company devices outside the office, E-mail use is on the rise, and using general mailer apps exposes E-mail contents and file attachments to the risk of being leaked. This is a problem that has received a lot of attention from the corporate IT market in recent years and cannot be dealt with using mobile device management (MDM) services alone, requiring an application layer to truly mitigate such risk. In order to resolve these issues, CLOMO SecuredMailer retains all the convenience of a smart device while providing the advanced control functions necessary to conform to every company's security policy. SecuredMailer also places great importance on security, and is scheduled to be integrated into a number of financial institutions.
CLOMO SecuredMailer is equipped with an abundance of security functions, including...
1. restriction of file correlation with other apps.
→ Decreases the risk of information leaks by restricting linkage to other apps when viewing files.
2. remote distributions of E-mail account settings.
→ Hides password from users and restricts E-mail usage from other locations (ex. home, etc.).
3. restriction of cache data saves.
→Restricts local saves of E-mail and file attachments, reducing the risk of an information leak.
4. remote app start up restriction and in-app data wipe functions.
→ Offers instant remote wipes in the event of loss or theft for those who prioritize convenience and save E-mail and file attachments locally.
5. a Prohibit E-mail Forwarding function.
→ Mitigates the risk of an information leak by restricting E-mail forwarding.
CLOMO SecuredMailer achieves efficiency with the security and concentrated management that companies demand.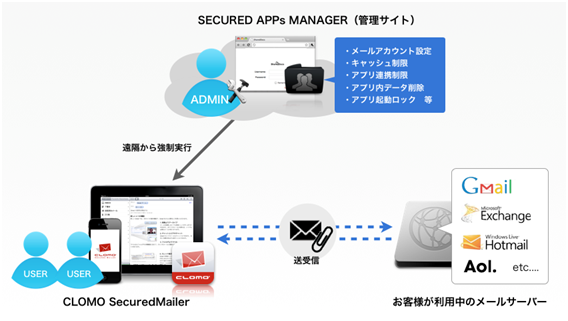 < Main Functions >
▼Control Functions
- App Correlation (Document Viewing / File Copying with Other Apps) Restriction
- Remote Configuration of E-mail Account
- Disallow Cache Save
- Number of Password Re-entries Setting
- Remote Wipes of In-App Data
- App Start Up Restriction
- Administrator Message Notifications to Apps
▼App Functions
- E-mail Sending/Receiving
- Signature Settings
- E-mail Display Settings (Result Display Setting, Smallest Font Setting, To/Cc Label Display Setting, etc.)
- File Attachment Viewing (Video, Graphics, Music, Microsoft Office Files, etc.)
- Zip File Extraction (Password Removal Possible)
- Search Contacts Function
< Compatible Servers and Services >
Google Apps, Exchange Server 2003/2007/2010/Exchange Online/Office365
< Compatible Protocol >
IMAP, SMTP, Exchange ActiveSync v2.5/v12.1/v14.1
< Price (Incl. Sales Tax) >
- 2,520 Yen/ App License / Year (¥210 Yen / Month)
- An initial configuration fee (21,000 Yen) and an annual administrative server fee (25,200 Yen) will be charged separately.
(The SECURED APPs series is available for purchase from 10 or more app licenses)
■ About the CLOMO SECURED APPs Series
The CLOMO SECURED APPs series is equipped with control functions that allow administrators to restrict app operation remotely by enforcing security restrictions and various settings with Apple Push Notifications (APNs) or other such push transmission mechanisms from an integrated administrative panel. App start up restriction, remote wipes of in-app data, and customized message sending are just a few of the common functions offered in this series, characterized by control functions and data control functions that are configurable on an individual app basis.
■ Confirmed CLOMO SecuredMailer Operating Environments (As of December 6, 2011)
▼Administrative Console WEB Applications
・Compatible Browsers
- Chrome (Win/Mac) 8.0 and newer
- Firefox (Win/Mac) 3.6 and newer
- Safari (Win/Mac) 5.0 and newer
▼Client Apps
・Compatible Devices
- iPad, iPad 2<
- iPhone 4, iPhone 4S
- 4th Generation iPod touch
・Compatible OS
- iOS 4.3.5 and newer
【About i³ Systems, Inc.】
i³ Systems is an software platform provider based in Fukuoka, Japan engaged in the development and retention of technology to fully utilize the enterprise Cloud and smart devices. While we offer extension tools to supplement various public Cloud services like Google Apps, in the smart device sector, we have developed Yubizo Engine, an extensive framework library that utilizes the potential of the Web and enables the development of advanced applications using HTML and JavaScript. We are working to become a front-runner geared towards the realization of a next-generation IT environment that integrates everything from the Cloud to smart devices and apps. Our innovations have been recognized on several occasions: i³ Systems was the only Japanese company to win a Google Award in the Solutions category at Google Enterprise Day 2010 (Oct. 29, 2010). We also specialize in the development of various Ruby (a programming language) products and services, winning Awards of Excellence at the Fukuoka Ruby Awards for two consecutive years (2008 and 2009).
Company Name : i³ Systems, Inc.
Address : Hanamura Bldg. 5Fl, 2-1-1 Ohashi, Minami-ku, Fukuoka City, Fukuoka Prefecture 815-0033 (As of November 1, 2011)
Established : January 2001
Capital : 65 million Yen
Representative : Tsutomu Sasaki (CEO)
URL : http://www.i3-systems.com
※ The iPhone and iPad are registered trademarks of Apple Inc.
※ The iPhone trademark is used in accordance with a license from Aiphone K.K.
※ Google and Google Apps are registered trademarks of Google Inc.
※ The company and product names herein may be the trademarks or registered trademarks of those companies.
【Inquiries】
Keisuke Fukano
Marketing Head Office
Phone : 03-6450-1880
Fax : 092-592-6396
E-mail : info@i3-systems.com
URL : http://www.i3-systems.com