i³ Systems, Inc. (hereinafter called "i³ Systems"; head office: Fukuoka-city, Fukuoka, CEO: Tsutomu Sasaki,) would like to announce that over 1 million of licenses of CLOMO, which was released as of November 2010, have been sold as of June 2014.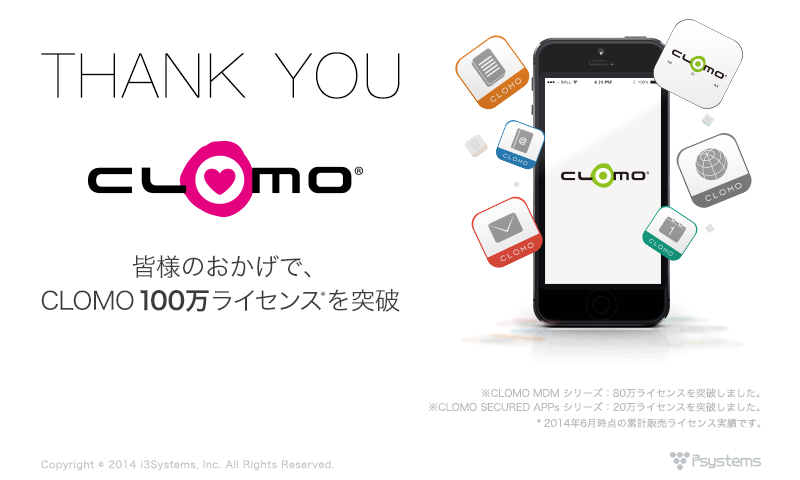 CLOMO provides services for business-wide implementation of operation, management, and utilization environments on smart devices required to get the best out of them as a platform with functions that will realize mobile first. The best features of CLOMO are the easy implementation and operation of a licensing system allowing customers to choose only the functions they need, ready-to-use cloud services with no capital investment required, and a user-friendly interface.
In May 2014, we started supporting Apple's new system Volume Purchase Program, providing the silent app installation function to significantly reduce management and operational costs for companies in the iOS environment and allowing optimization of the number of applications to purchase (*1), maintaining CLOMO's features and actively enhancing functions.
CLOMO was released in November 2010, and we have been actively engaged in enhancing CLOMO features for large-scale operations by working with market leaders in peripheral fields. With the cooperation of our distributing partners, CLOMO has been implemented by more than 6,000 (*2) companies, including users with larger-scale operations like Obayashi Corporation; Saga Prefectural Office; Sojitz Corporation; Tokio Marine & Nichido Fire Insurance Co., Ltd.; Noevir Holdings Co., Ltd.; PARIS MIKI HOLDINGS Inc.; and Ricoh Company, Ltd., and 1 million CLOMO licenses have been sold so far.
(*1) According to an in-house survey conducted on November 18, 2010.
■ Message from the CEO Sasaki
We are grateful to announce that over 1 million CLOMO licenses have been sold. This is primarily due to the support and assistance of users, partners, and all concerned. I would like to take this opportunity to express my sincere appreciation. We would like to make a greater effort in contributing to your businesses and meet your expectations. We look forward to your continued business in the future.
■ Breakdown of the sales of 1 million CLOMO licenses
CLOMO MDM series: 0.8 million licenses have been sold. (*3)
CLOMO SECURED APPs series: 0.2 million licenses have been sold (*3)
As a front-runner in the market for smart devices by corporate entities, i³ Systems would like to resolve issues of companies implementing and utilizing smart devices in their business in order to endeavor to contribute to their business success.
*1: See http://www.i3-systems.com/portal_en.html for more information/details on the improvements of CLOMO features.
*2: Sales as of June 2014.
*3: Includes the total sales of licenses for optional services.
【Inquiries related to this press release】
i³ Systems, Inc.
Person in charge: Takahiro Yamazaki
Phone: 03-6450-1880
Based on the vision "Cloud is all about cloud services, apps, and devices," CLOMO continues to evolve as the world's first mobile first platform service with everything required for businesses to best utilize mobile and cloud technologies.
i³ Systems, Inc., is a software platform provider that develops and holds technologies allowing users to fully utilize their enterprise cloud and smart devices. To create the next-generation IT environment that integrates the cloud, smart devices, and applications, we endeavor to work together with front-runners as best we can. We have won various recognitions from a wide variety of areas, including the AWS Partner Award in the enterprise category in June 2012, the Outstanding Performance Award in the entrepreneur category at the 7th Nippon New Business Creation Award in the October, and the Entrepreneur of the Year Japan 2012 in the November.
Company Name : i³ Systems, Inc.
Address : Hanamura Building, 2-1-1 Ohashi, Minami-ku, Fukuoka-city, Fukuoka
Established in : September 2001
Capital : 282.50 million yen
Representative : CEO Tsutomu Sasaki
URL : http://www.i3-systems.com/
※ CLOMO and i³ Systems are registered trademarks of i³ Systems, Inc.
※ The names of companies and products included in this document may be registered trademarks of other companies.