i³ Systems, Inc. (hereinafter called "i³ Systems"; head office: Fukuoka-city, Fukuoka; CEO: Tsutomu Sasaki,) would like to announce that their MDM service, CLOMO MDM, now supports Windows 8 tablet devices, and the service will be launched in Spring 2014.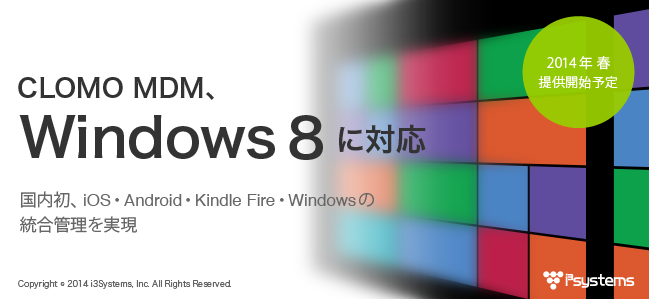 CLOMO MDM was launched as the first MDM (Mobile Device Management) service for iOS in Japan (*1), achieved the No. 1 (*2) share of the domestic MDM market for three consecutive years as a multi-device, carrier-free MDM service, and is employed by more than 5,500 (*3) businesses, including companies with larger-scale operations like Obayashi Corporation; Mitsubishi Tanabe Pharma Corporation; Noevia Holdings Co., Ltd.; Fukuoka City Hall; and Ricoh Company Ltd..
We are happy to announce that CLOMO MDM for Windows is to be launched in spring 2014 that complies with OMA-DM (*4) developed by the Open Mobile Alliance (OMA). With this launch, i³ Systems will be able to provide an integrated management environment with the existing supported Oss: iOS, Android, and Kindle Fire, first in Japan. Also, we are to provide interlocks with the CLOMO Mobile App Portal that offers an application management function (MAM: Mobile Application Management), CLOMO SECURED APP series offers a content management function (MCM: Mobile Content Management) and Active Directory.
As a front-runner in the market for smart devices by corporate entities, i³ Systems would like to endeavor to provide the latest and best technologies to existing users as fast as possible.
*1: Based on our survey conducted on November 18, 2010.
*2: Source: "Prospects in the Market of Collaboration/ Contents/ Mobile Device and Contents Management Package Software 2013" by MIC Research Institute Ltd., Actual Shipments in FY 2011 and FY 2012 and shipment forecast in FY 2013.
*3: Sales as of June 2013
*4: OMA-DM stands for Open Mobile Alliance - Device Management.
◯Release schedule
To be released in spring 2014
【Inquiries related to this press release】
i³ Systems, Inc.
Marketing Head Section
Person in charge: Shoji
Phone: 03-6450-1880
Based on the vision "Cloud is all about cloud services, apps, and devices," CLOMO continues to evolve as the world's first mobile first platform service with everything required for businesses to best utilize mobile and cloud technologies.
i³ Systems, Inc., is a software platform provider that develops and holds technologies allowing users to fully utilize their enterprise cloud and smart devices. To create the next-generation IT environment that integrates the cloud, smart devices, and applications, we endeavor to work together with front-runners as best we can. We have won various recognitions from a wide variety of areas, including the AWS Partner Award in the enterprise category in June 2012, the Outstanding Performance Award in the entrepreneur category at the 7th Nippon New Business Creation Award in the October, and the Entrepreneur of the Year Japan 2012 in the November.
Company Name : i³ Systems, Inc.
Address : Hanamura Building, 2-1-1 Ohashi, Minami-ku, Fukuoka-city, Fukuoka
Established in : September 2001
Capital : 282.50 million yen
Representative : CEO Tsutomu Sasaki
URL : http://www.i3-systems.com/
※ CLOMO and i³ Systems are registered trademarks of i³ Systems, Inc.
※ Android is a registered trademark of Google Inc.
※ Kindle, Kindle Fire, Amazon and Amazon.co.jp are trademarks of Amazon.com, Inc. or its associated companies.
※ Open Mobile Alliance (OMA) is a registered trademark of Open Mobile Alliance Ltd.
※ Windows and Windows 8 are registered trademarks or trademarks of Microsoft Corporation in the United States and other countries.
※ The names of companies and products included in this document may be registered trademarks of other companies.