i³ Systems, Inc. (hereinafter called "i³ Systems"; head office: Fukuoka-city, Fukuoka; CEO: Tsutomu Sasaki,) would like to announce that we released new iOS 7-optimized versions of CLOMO Secured App series to further enhance the usability and operational efficiency of business apps for iOS.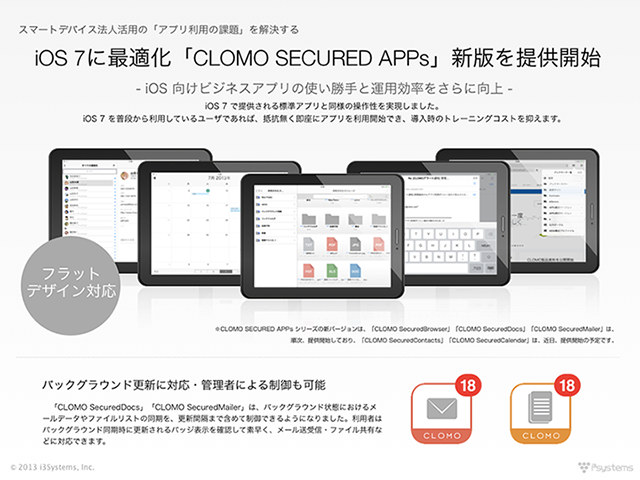 There is a potential risk of information leakage in mobile apps, which can be freely carried around, anytime anywhere. CLOMO Secured App series consist of five types of mobile apps, including browser, document sharing, mailer, shared address book, and calendar, which are demanded by many of smart devices implementing companies, and each of the app has data protection system to prevent company information leakage, remote settings and control functions to understand the usage status to support operations, and operability and functionality that are distinctive to native apps.
i³ Systems released new versions of CLOMO Secured App series optimized for iOS 7 that has also significantly changed for business use to further enhance the usability and operational efficiency of business apps for iOS. With this enhancement, those users who normally use iOS7 are able to immediately start using the apps with ease with low training cost at the implementation.
New versions of the CLOMO Secured App series CLOMO Secured Browser, CLOMO SecureDocs and CLOMO SecuredMailer are to be released sequentially. CLOMO SecuredContacts and CLOMO SecuredCalender are to be release shortly (*1).
■ Supports flat design optimized for iOS 7(*2)
UI and UX that support flat design of iOS 7 are now available. The new versions provide superior operability similar to that of the standard apps provided by iOS 7 including mail operations with swipe actions.
■ Supports background update of apps
CLOMO SecuredDocs and CLOMO SecuredMailer now enable the administrator to control the background auto-replication of mail data as well as the file lists and set the update frequency. Users are able to check the batch list that is updated at the same time with the background replication, and browse files, send/receive mails, and share files. (*2)
■ Other enhancements in the new versions
In order to improve the convenience of iOS operation scenes further, there are various enhancements in the functions, including file path issuance function, which is useful when sending a large-sized shared file of which size exceeds the maximum size of an attached email through a mailer app. The following describes the overview of enhanced functions in the new versions.
◯ Overview of enhanced functions in the new versions of CLOMO SecuredBrowser(*3)
Tabbed view on iPhones
Deletion of browsing history and cache (optional)
Selection of search engine (Google, Yahoo, Baidu, Bing, NAVER)
Full screen view
Search in page
Self-signed digital certificate installation function via a web site
Self-signed digital certificate authentication function to a web site
◯ Overview of enhanced functions in the new versions of CLOMO SecuredMailer(*3)
List view of unread messages
Default view of inbox
Image capturing and image data attachment with a built-in camera
Recording and voice data attachment with a built-in voice notes
◯ Overview of enhanced functions in the new versions of CLOMO SecuredDocs(*3)
Bulk file download(*4)
File path issuance function
As a front runner of the market of the smart devices for corporate entities, i³ Systems endeavor to provide the latest and best technologies to the existing users as fast as possible.
*1.As soon as CLOMO SecuredContacts and CLOMO SecuredCalendar are released, it will be announced on our website.
*2.This function is only available on iOS 7.
*3.There are two types of CLOMO SECURED APPs series available: CLOMO Secured Apps for iOS provided on App Store or CLOMO Secured Apps Enterprise for iOS to support larger-scale operation. Visit our website for detailed information including the functional differences and terms and conditions.
*4.This function is not applied when a WebDAV server is used.
【Inquiries related to this press release】
i³ Systems, Inc.
Marketing Head Section
Person in charge: Shoji
Phone: 03-6450-1880
Based on the vision "Cloud is all about cloud services, apps, and devices," CLOMO continues to evolve as the world's first mobile first platform service with everything required for businesses to best utilize mobile and cloud technologies.
i³ Systems, Inc., is a software platform provider that develops and holds technologies allowing users to fully utilize their enterprise cloud and smart devices. To create the next-generation IT environment that integrates the cloud, smart devices, and applications, we endeavor to work together with front-runners as best we can. We have won various recognitions from a wide variety of areas, including the AWS Partner Award in the enterprise category in June 2012, the Outstanding Performance Award in the entrepreneur category at the 7th Nippon New Business Creation Award in the October, and the Entrepreneur of the Year Japan 2012 in the November.
Company Name: i³ Systems, Inc.
Address: Hanamura Building, 2-1-1 Ohashi, Minami-ku, Fukuoka-city, Fukuoka
Established in: September 2001
Capital: 282.50 million yen
Representative: CEO Tsutomu Sasaki
URL: http://www.i3-systems.com/
※ CLOMO and i³ Systems are registered trademarks of i³ Systems, Inc.
※ The names of companies and products included in this document may be registered trademarks of other companies.