・CLOMO MDM Zero is an easy-to-implement product to provide an operation and security environment required for smart device utilization at corporate entities whether the devices are provided by companies or BYOD (Bring Your Own Device).
・CLOMO MDM Zero is based on the concept of the first step of the best smart device utilization and is provided at 19,800 yen (tax excluded) per 100 devices a year.
・CLOMO MDM Zero is compatible with the CLOMO series and has scalabilities according to the utilization phase of smart devices.

i³ Systems, Inc. (hereinafter i³ Systems; head office: Fukuoka-city, Fukuoka; CEO: Tsutomu Sasaki) is to launch a smart device security product CLOMO MDM Zero at 19,800 yen (tax excluded) per 100 devices a year. CLOMO MDM Zero realizes the best operation and security environment for smart device utilization at corporate entities for such as iPhones, iPads, Android smartphones, and tablets.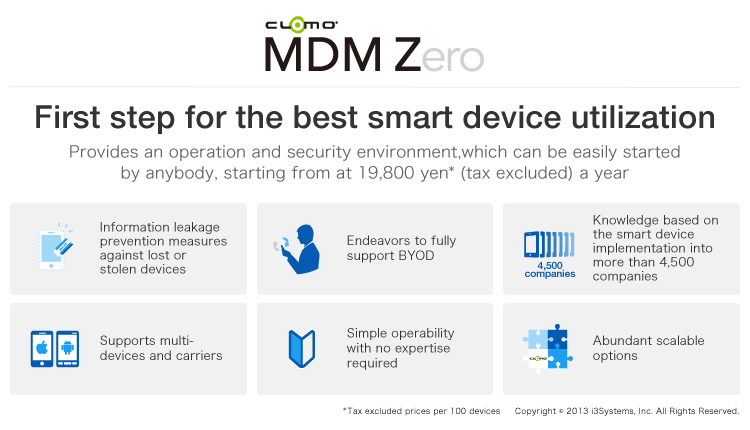 Business-wide implementation of smart devices has been made by not only businesses with large-operation, such as Ricoh Company, Ltd. and Gulliver International Co., Ltd., but also for small sized implementations around 10 devices. By supporting over 4,500 smart device implementations, i³ Systems came to believe that the best small start solution, which supports both a quick and easy start and flexibility to support future requirement changes was the key success factor and that a new product to satisfy the following five requirements would be necessary to streamline the operation and security environment for small start.
1. Able to prevent risks of information leakage when devices are lost or stolen.
2. Able to support multi-devices and carriers
3. The price and product structure are easy to implement
4. Easy settings and operations
5. Equipped with future scalability to fully support more demanding requirements and BYOD.
CLOMO MDM Zero has satisfied these requirements, taking over the design concept of CLOMO MDM, which has been implemented by 4,500 companies. i³ Systems widely supports smart device utilizations regardless of the company size.
●Product name

CLOMO MDM Zero

●Order accepting date

Tuesday, April 2, 2013 (scheduled)
※Orders will be accepted through our website only. The details on how to order and distribute the product will be informed separately.


●Product launch

Scheduled in May 2013

●Sales price (tax excluded)

19,800 yen a year (per 100 devices)

●Key features

・Remote lock/ remote wipe (including SD cards)
・Pass code unlock
・Location information acquisition
・Pass code force lock (limited function for Android devices only)
・Device information acquisition command
・User and organization grouping function
・Log browsing function


●Product where optional services are available
【Inquiries related to this press release】
i³ Systems, Inc.
Marketing Head Section
Person in charge: Shoji
Phone: 03-6450-1880
Based on the vision "Cloud is all about cloud services, apps, and devices," CLOMO continues to evolve as the world's first mobile first platform service with everything required for businesses to best utilize mobile and cloud technologies.
i³ Systems, Inc., is a software platform provider that develops and holds technologies allowing users to fully utilize their enterprise cloud and smart devices. To create the next-generation IT environment that integrates the cloud, smart devices, and applications, we endeavor to work together with front-runners as best we can. We have won various recognitions from a wide variety of areas, including the AWS Partner Award in the enterprise category in June 2012, the Outstanding Performance Award in the entrepreneur category at the 7th Nippon New Business Creation Award in the October, and the Entrepreneur of the Year Japan 2012 in the November.
Company Name : i³ Systems, Inc.
Address : Hanamura Building, 2-1-1 Ohashi, Minami-ku, Fukuoka-city, Fukuoka
Established in : September 2001
Capital : 65.00 million yen
Representative : CEO Tsutomu Sasaki
URL : http://www.i3-systems.com/
※ CLOMO and i³ Systems are registered trademarks of i³ Systems, Inc.
※ iPhone and iPad are trademarks of Apple Inc.
※ iPhone trademark is used based on the license of Aiphone Co., Ltd.
※ Google and Google Apps are registered trademarks of Google Inc.
※ The names of companies and products included in this document may be registered trademarks of other companies.