i³ Systems, Inc. (hereinafter "i³ Systems"; head office: Fukuoka-city, Fukuoka; CEO: Tsutomu Sasaki) and F5 Networks Japan K.K. (hereinafter called "F5"; head office: Minato-ku, Tokyo; CEO: Hiroshi Arii) have tested and verified the interconnectivity between CLOMO MDM, an MDM service implemented by 4,500 companies, and F5's remote access solution for mobile devices (hereinafter called BIG-IP APM) consisting of F5 BIG-IP® Access Policy Manager™(APM™), BIG-IP Edge Gateway™ and BIG-IP Edge Client® only 1.5 years after establishing the partnership. This will provide effective solutions to issues on securities and apps that companies are confronting to include those related to mobility improvement and BYOD (Bring Your Own Device) promotion.
i³ Systems' CLOMO MDM is a mobile device management (MDM) service that provides bulk-management functions of iOS and Android smart devices for secure and efficient operations in a company. It is equipped with various management functions to members of the organization and groups that allows via the browser to bulk-acquire device information, bulk-apply profiles to devices and bulk-initialize devices when they are stolen or lost.
F5's remote access solution BIG-IP APM supports various environments, such as multiple domains and extensive single-sign-on (SSO) authentications. Also, providing detailed session reports, BIG-IP APM can provide easy access environment, which consolidates application access control for mobile users and authorizes users to access a certain application by granting them unrestricted VPM access or restricted access depending on the business priority or users' attributes,
The verification result proved that only smart devices under the control of CLOMO MDM and with a digital certificate can connect to the internal network via BIG-IP. Also, the integrated management of multi-devices function implemented to the both products allows you to securely establish more secure and convenient remote access environments. CLOMO MDM is the first certified MDM service in Japan for the F5 Solution Partner and both companies, i³ Systems and F5 Networks, collaborate to establish the F5 MDM ecosystem. Also, F5's BIG-IP APM has been certified for CLOMO Certified Products, which can build add-on services that can interlock with the CLOMO platform. i³ Systems and F5 Networks continue to engage in establishing and promoting remote access solutions that customers can securely use.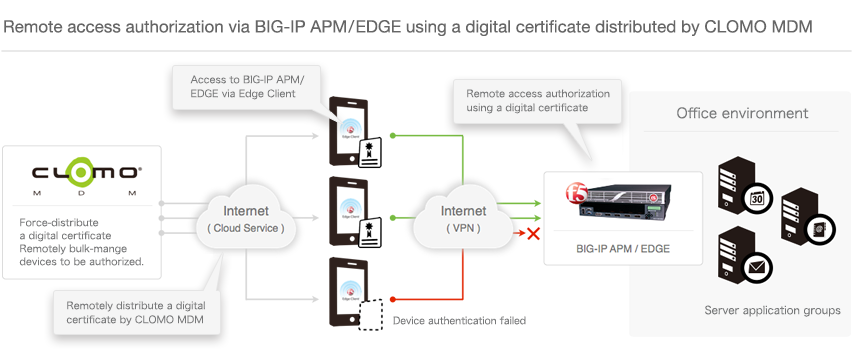 ■ About collaboration solution between BIG-IP APM and CLOMO
 http://www.f5networks.co.jp/product/bigip/related/cooperation/clomo.html
■ About CLOMO Certified Products
 http://www.i3-systems.com/partner-cp_en.html
■ Detailed documentations on collaboration solution between BIG-IP APM and CLOMO
 http://www.i3-systems.com/contact-download.html
【Inquiries related to this press release】
i³ Systems, Inc.
Marketing Head Section
Person in charge: Shoji
Phone: 03-6450-1880
F5 Networks Japan K.K.
19F Akasaka Garden City. 4-15-1, Akasaka, Minato-ku, Tokyo
Person in charge of PR: Sengen
Phone: 03-5114-3230
Contact details:https://www.f5networks.co.jp/press/contact.html
Based on the vision "Cloud is all about cloud services, apps, and devices," CLOMO is a platform service with everything required for businesses to use the cloud.
CLOMO provides CLOMO MDM, CLOMO GATE, CLOMO MOBILE APP PORTAL, and CLOMO SECURED APPs series and continues to evolve as the world first Mobile First platform.
i³ Systems, Inc. is a software platform provider that develops and holds technologies allowing users to fully utilize their enterprise cloud and smart devices. We actively market the Yubizo Engine in the smart device field, while providing add-on tools to supplement various public cloud services such as Google Apps. The Yubizo Engine is a framework library allowing to develop advanced mobile application with HTML5 and JavaScript leveraging the potential of the web.
To create the next-generation IT environment that integrates the cloud, smart devices, and applications, we endeavor to work together with front runners as best we can.
Owing to such activities, we have won various recognitions; we have won the Google Award first in Japan in the solution category at the Google Enterprise Day 2010 on October 29, 2010; our implementation example of mobile solutions was highly acclaimed for the AWS Partner Award by Amazon Data Services Japan on June 22, 2012 and won the AWS Partner Award in the enterprise category; and we have won the Outstanding Performance Award at the Entrepreneur of the Year Japan 2012 on November 19, 2012. We are also familiar with development of various products and services using Ruby (development language) and won the award for excellence at the Fukuoka Ruby Award for two consecutive years in 2008 and 2009.
Company Name : i³ Systems, Inc.
Address : Hanamura Building, 2-1-1 Ohashi, Minami-ku, Fukuoka-city, Fukuoka
Established in : September 2001
Capital : 65.00 million yen
Representative : CEO Tsutomu Sasaki
URL : http://www.i3-systems.com/
※ CLOMO and i³ Systems are registered trademarks of i³ Systems, Inc.
※ Amazon Web Services and Amazon Web Services logo are trademarks of Amazon.com, Inc. or its associated companies.
※ Google and Google Apps are registered trademarks of Google Inc.
※ The names of companies and products included in this document may be registered trademarks of other companies.
■ BIG-IP Access Policy Manager products overview
■ About F5 Networks
F5 Networks provides the best solution to better connect IT environments in the world. They respond to companies' needs and support them to make the use of their business chances brought by the rapid increases of mobile work, applications, and traffic, including voice, data, images significantly increased in data centers, and the cloud environment. Customers all over the world like major corporate, service providers, and government organizations choose F5's Intelligent Service Platform as a solution that delivers applications and services, maintains reliability, and connects people.
See www.f5networks.co.jp for more details on F5.