Mr. Tsutomu Sasaki, founder and CEO of i³ Systems, Inc. (headquartered in Fukuoka City, Fukuoka; "i³ Systems" below), has won the Grand Prize in the Challenging Spirit Category at the Entrepreneur Of The Year 2012 Japan Awards ("EOY 2012 Japan" below) hosted by Ernst & Young ShinNihon LLC.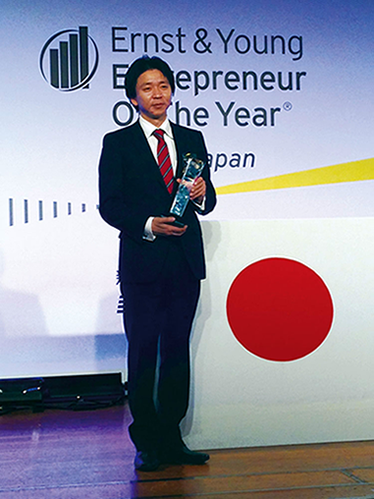 ■About EOY 2012 Japan
EOY is an awards ceremony established by Ernst & Young in 1986 to recognize entrepreneurs. Today it held in 50 countries throughout the world and has been conducted in Japan since 2001.
hree entrepreneurs were awarded in the categories of "National Entrepreneur of the Year", "Accelerating", and "Challenging Spirit" at EOY 2012 Japan. Mr. Sasaki took home the Grand Prize in the Challenging Spirit category, which honors those entrepreneurs who have (in principle) been involved in business activities (or running a company) for less than seven years. For a complete wrap-up of this year's winners, please visit EOY's homepage (Japanese only).
http://www.shinnihon.or.jp/eoy/news/20121119.html
■Mr. Sasaki's Comments
Mr. Sasaki had the following to say about winning the award:
Since the iPhone debuted in 2007, we have continually explored ways to utilize smart devices in business sooner, faster, more thoroughly and more seriously than anywhere else, evolving with the goal of becoming a front-runner in the enterprise-oriented mobile solution sector. While we faced many obstacles and troubles in the process of taking on this challenge, the trust we have earned from our customers and partners, and above all, the effort and growth of each and every one of our persevering employees have culminated in the winning of this award. Reflecting on this, I am filled with a sense of joy and gratitude."
"When people think of a typical entrepreneur in the IT industry, I believe they tend to imagine someone from Silicon Valley who is full of ideas and has fund-raising abilities. I, on the other hand, was not at all like a 'Silicon Valley' entrepreneur, in that when I started out, I had ideas but didn't know how (and really had no knowledge of how) I should translate them into business. What I did know was the significance of my unwavering desire to create value that would translate globally, and the sense of joy I got from continual learning as well as the I have faith in my colleagues and growing together with them. Our challenge as a company in the future will be to benefit society, as many of our colleagues have so successfully done (including Honda and Sony in the manufacturing arena). As an entrepreneur, I hope to provide the next generation with dreams and direction, and make as much personal growth as possible."
As a frontrunner in the corporate smart device market with Mr. Sasaki at the helm, we here at i³ Systems hope to continue to provide all of our customers and partners with the latest and best technology / business environments faster than anywhere else in the future!
【Inquiries】
Tomoyo Shoji
Marketing Head Office
Phone : 03-6450-1880
Based on the idea that "services, apps, and devices are all the Cloud", CLOMO is a platform service that includes everything businesses need to utilize the Cloud. We currently offer CLOMO MDM, CLOMO GATE, CLOMO MOBILE APP PORTAL, and CLOMO SECURED APPs in the product series, which continues to evolve as the world's first mobile-centric platform.
i³ Systems is a software platform provider based in Fukuoka, Japan engaged in the development and retention of technology to fully utilize the enterprise Cloud and smart devices. While we offer extension tools to supplement various public Cloud services like Google Apps, in the smart device sector, we have developed Yubizo Engine, an extensive framework library that utilizes the potential of the Web and enables the development of advanced applications using HTML and JavaScript.
We are working to become a front-runner geared towards the realization of a next-generation IT environment that integrates everything from the Cloud to smart devices and apps. Our innovations have been recognized on several occasions: i³ Systems was the only Japanese company to win a Google Award in the Solutions category at Google Enterprise Day 2010 (Oct. 29, 2010). On June 22, 2012, we received an AWS Partner Award from Amazon Data Services Japan in the Enterprise Division for our highly acclaimed mobile solution user case examples. We also specialize in the development of various Ruby (a programming language) products and services, winning Awards of Excellence at the Fukuoka Ruby Awards for two consecutive years (2008 and 2009).
Company Name : i³ Systems, Inc.
Address : Hanamura Bldg. 5 FL, 2-1-1 Ohashi, Minami-ku, Fukuoka City, Fukuoka Prefecture 815-0033
Established : September 2001
Capital : 65 Million Yen
Representative : Tsutomu Sasaki (Founder & CEO)
Website : http://www.i3-systems.com/
※ CLOMO is a registered trademark of i³ Systems, Inc.
※ Amazon Web Services and the Amazon Web Services logo are trademarks of Amazon.com, Inc. and its affiliates.
※ Google and Google Apps are registered trademarks of Google Inc.
※ The company and product names herein may be the trademarks or registered trademarks of those companies.