i³ Systems, Inc. (headquartered in Fukuoka City, Fukuoka; Founder and CEO: Tsutomu Sasaki; "i³ Systems" below) is proud to announce that it has received an Award for Excellence in the Entrepreneur Category at the 7th Annual Japan New Business Creation Awards hosted by Japan New Business Conferences on October 16, 2012.
i³ Systems consider this award to be a testament to the innovativeness of CLOMO (our integrated management platform solution for corporate-oriented Clouds, apps, smart devices offered since November of 2010) and the efforts made by our CEO Tsutomu Sasaki as an entrepreneur.
This year marks the 11th year since i³ Systems was founded in 2001, and we continue to attract not only local talent but also former members of internationally renowned IT companies (including Apple) in pursuit of our dream to create a global brand in the software sector. In receiving this distinguished award, we feel greatly encouraged by our peers in the sector.
i³ Systems aims to use this award as an opportunity to not simply develop its products and platform, but also to cultivate a fantastic corporate culture as well as create business that will contribute to the prosperity of many companies (including our customers and business partners).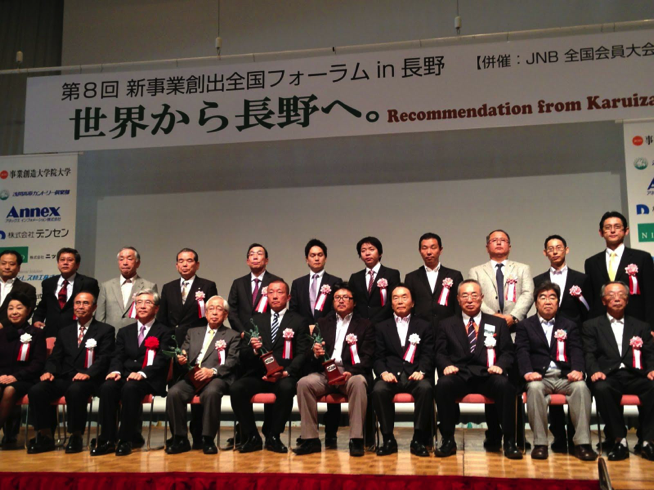 About the Japan New Business Creation Awards
By recognizing companies that are developing new business with their innovative products, services, or methodologies as well as individuals (including groups) supporting the promotion of new business, Japan New Business Conferences aims for this award to contribute to the invigoration of both Japan's economic society and the region.
Details (Japanese only): Japan New Business Conferences http://www.nbc-japan.net/award/
【Inquiries】
Keisuke Fukano
Corporate Communications Office
Phone: 092-552-4358